Bike Carrying Bag Review: Doppelganger Carrying Bag (dcb168-bk)
In Japan you can take bikes on trains including Shinkansen free of charge with no need for prior booking, but you need to carry them in bike bags called Rinko 輪行 bag.
Please refer to our article below or further information on taking your bike on trains in Japan.
Travelling-on-trains-including-shinkansen-with-bicycles-in-japan
There are a wide range of Rinko bags available to purchase in bike shops and online.  Some are expensive and others are cheap, nothing more than a large bin bag.  After online research and reading some reviews we ended up buying fairly inexpensive ones for about 3,300 yen from Rakuten (available also from Amazon Japan) called Doppelganger Carrying Bag (dcb168-bk).
The bag comes neatly folded in its own pocket and light weight (628g).  You can cover entire adult bikes in it without dismantling, but you are supposed to remove the front wheel off so that the length should be less than 200cm when you take the bike on trains.  They come with short straps to secure the front wheel to the main body to make it easy to carry.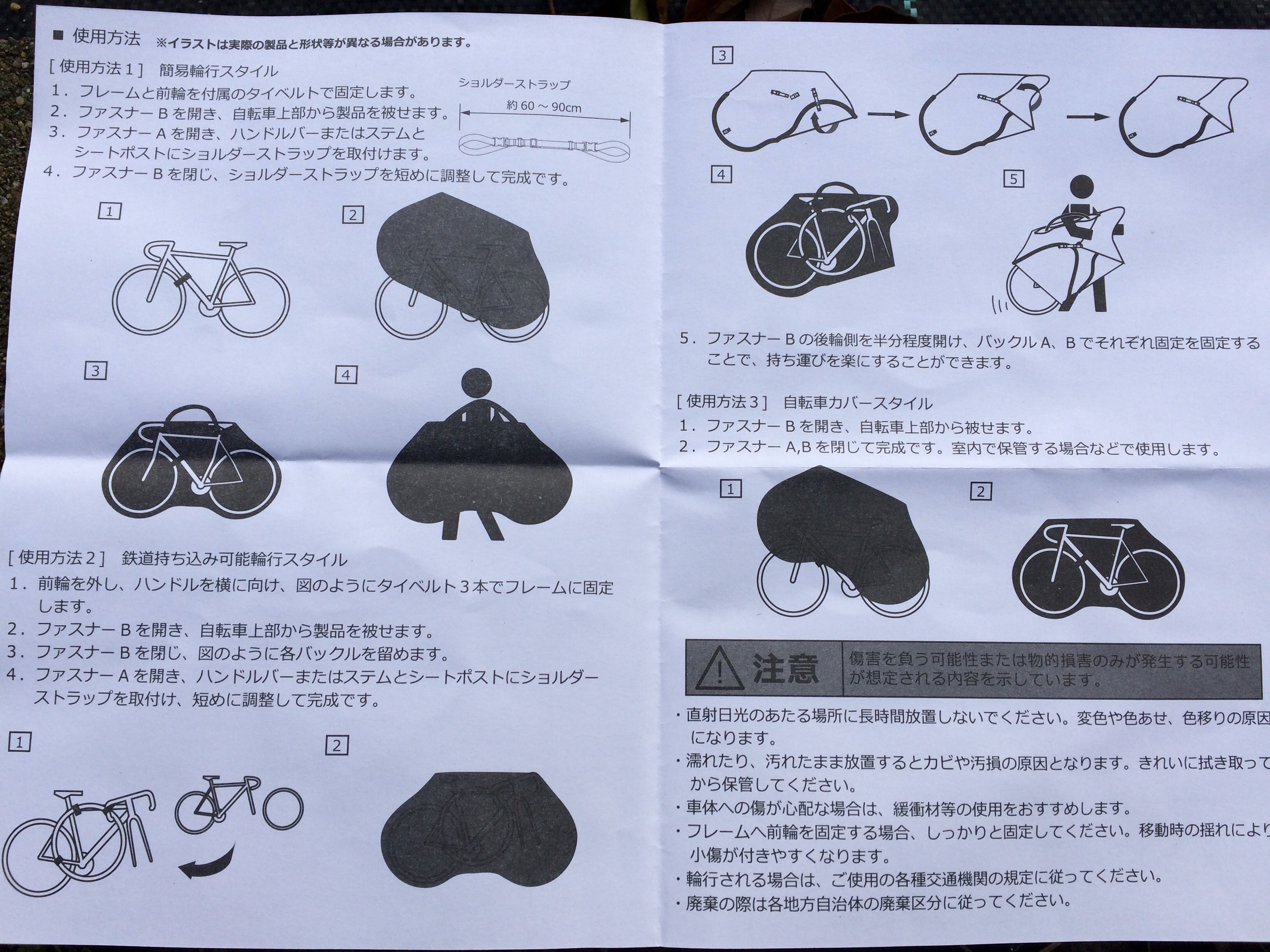 The bag can be closed and opened with zip fasteners at the bottom and also at the top, where you can adjust to make two gaps to tie the shoulder strap to the bike inside the bag.  There are instructions how to do this, but we found that each person finds the best way to stow the bike depending on the size/design/weight of each bike and also how you want to carry the bike.  At first you struggle to find out how to do it, but after a series of trail and error you will find your own way best suited to your situation.
Although it did not cost much, the bag proved adequate for our 1-week rail and cycling journey.  The material seems fairly strong despite the light weight.  As you attach shoulder straps to your bike itself rather than carrying the entire bag with a heavy bike in it, I expect there is less wear and tear over frequent use over time.  The fact you can fold the entire bag into the attached pocket as a carrying pouch means that there is no danger of you losing the bag (although you need to remember not leaving the shoulder strap and tie straps somewhere in the station!)
Specification of Doppelganger Bike Carrying Bag (DCB168-BK)
Size when folded: W300 × H210 × D80 mm
Size when open: W1,850 (the longest) × H1,100 (center) mm × D440mm (the longest)
Weight: 628g (included strap)
Color: Black & Orange
Material: Polyester (polyurethane coating)
Accessories: Carrying belt (W570 × H270 mm) length adjustable
3 x shoulder strap (W500 ~ 1,100 × H270 mm)
Where to buy
You can buy these bags online from: