【Cycling Diary】Kagoshima - Sakurajima Volcanic Mountain cycling tour
Cycling Diary: April Rail and Cycling Tour Day 1 to Sakurajima, Kagoshima
This is our cycling diary for a day in April to Sakurajima in Kagoshima.  Sakurajima is easily accessible for cyclists from Kagoshima via a pleasant ferry ride with a good view of the active volcanic mountain of Sakurajima.
Bikes packed into our bags we left 新山口 Shin-yamaguchi at 07.19 on the Shinkansen さくら Sakura 451 and arrived at 9:33 鹿児島中央Kagoshima Chuo.
From Kagoshimima Chuo it is a short 2km ride to the 桜島 Sakurajima Ferry Terminal port via the 21 and the 225.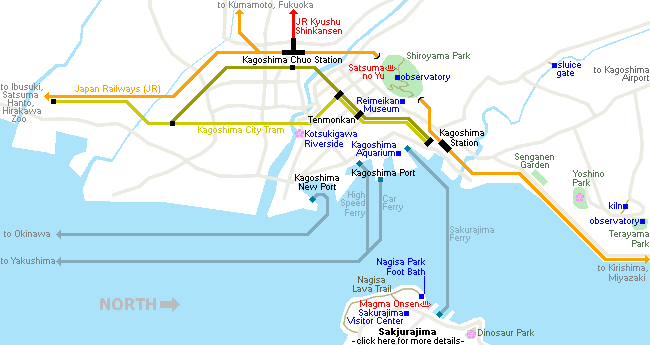 At the Ferry port we passed through a staffed toll booth where we had to pay 160 yen per passenger + 110 yen for a bicycle.  Access to the ferry was straightforward because there are guides that direct you on to the boat.
The ferry runs every half hour and takes approximately 15 minutes to Sakurajima and runs every 10-15 minute. Bikes and cars all go on the same deck and then you either remain with your bike or you can go to the top deck which has chairs, a viewing cabin and there are vending machines to buy drinks and snacks.
Upon arrival at Sakurajima we followed the signs for Visitor Centre which is no more than 500 metres from the port. The Visitor centre is worth a visit. With opening hours from 9am to 5pm it provides a plethora of free information about the area.  Here we watched a 15 minute film about the geological history of the island and learnt a lot about its explosive history. In addition there are models, pictures and information boards that provide the visitor with a detailed insight on the history of Sakurajima and where to go.
Close to the ferry terminal a number of other attractions that are worth a short visit. The first is the なぎさ Nagisa Park outside footbath where it is possible to relax tired legs with good views of the mountain. The second is Nagisa Lava trail. The trail, which takes about 30 minutes to walk, traverses the lava flow a major eruption in 1914.
From the visitor centre we decided to cycle around Sakurajima via the 26 and the 224. There are few shops on Sakurajima and so it is advisable to purchase some provisions before departing for a tour of Sakurajima. There is a convenience store near the visitor centre where it is possible to purchase necessary provisions for a day in the saddle.
It is an undulating ride with amazing views of the volcanic mountain and its surrounding sea. Whilst on our clockwise circumnavigation the mountain spewed some gas and ash - always bear in mind that this is possibly the most active volcano in Japan. There are shelters at 1km intervals where it is possible to take cover in the unlikely event of Sakurajima having a serious eruption.
To the north of Sakrajima there are glorious views out to sea with the lower slopes of the island covered in rich vegetation and Satsuma fields.
Half way around, and about as far east as you can cycle, we arrived at Kurokami where there are two interesting places worth a visit.
Kurokami observation point provides an excellent spot to view and photograph the mountain. When we visited we witnessed one of the frequent volcanic eruptions of gas and dust in to the atmosphere from the Showa Crater of the mountain. This is a spectacular show and we felt lucky to witness such an event.
A few hundred metres further along the road we arrived at the Famous Kurokami Shrine Gate which was mostly buried in ash and pumice during the major volcanic eruption of 1914. Today there is no more than a metre of the gate protruding above the ground.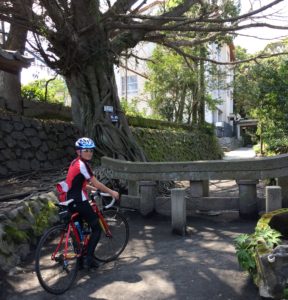 The 1914 eruption witnessed significant flows of lava from the mountain in a South Westerly direction. Flowing into the surrounding sea they eventually resulted in Sakurajima merging with Kyshu. Today there is a round across the lava flow making it possible to ride across to Kyshu should you wish.
We continued on our journey turning north on Sakurajima and heading in a westerly direction back towards the port and the end of our journey. Before reaching the port we stopped for a brief visit at the Arimura Observation Point to once again witness the breath taking views of Sakurajima's volcanic craters and surrounding sea. Should you wish to stretch your legs there are a number of really good look out points here that are all connected by easily navigable footpaths.
In total the cycle ride around Sakurajima is approximately 40 km. By the end of the ride we were getting tired and devoured lunch before indulging ourselves with a relaxing onsen at the Sakurajima Magma Onsen (open 10-22:00, 13-22:00 on Wednesday, 390 yen per person). Whilst there is no outside pool, the onsen does have large windows that overlook the sea to Kagoshima city. The onsen is also part of a larger hotel complex that incorporates shops and a café/restaurant.
For our return journey, we took Shinkansen Sakura 458 from Kagoshima Chuo at 20:13, arriving at Shin Yamaguchi at 22:24.  This is the last Shinkansen if you want to get to Hiroshima on the day (arriving at 22:59).  If you want to go back to Shin-osaka, you need to take Sakura 572 leaving Kagoshima Chuo at 18:30 arriving at Shin-osaka at 22:49.