Japan Rail Pass : for JR trains bus and ferry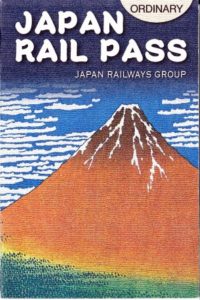 A Japan Rail Pass (or JR Pass) offers unlimited travel on most trains including Shinkansen, buses and ferries operated by Japan Railways Group throughout Japan, for one, two or three weeks.
It is available only for those travellers visiting Japan from abroad as tourists and  you have to buy an exchange voucher BEFORE you travel to Japan.  You can buy the JR pass online or through travel agents across the world.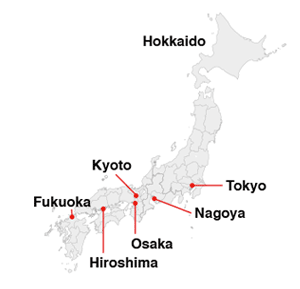 The main Japan Rail Pass allows unlimited travel on trains operated by Japan Railways (JR) Group throughout the country including Shinkansen 新幹線 Bullet Train (Excluding Nozomi のぞみ and Mizuho みずほ trains), limited express and express trains.  The JR Pass gives you the freedom to explore Japan with no area restriction and can also be used for JR local buses (not on highway buses) and ferries (although there are not too many) such as JR ferry to Miyajima 宮島.
Even if your preferred means of transport is your own bike, you may consider using this pass to combine shorter cycling trips with long distance Shinkansen travels as the ordinary fare is relatively expensive.
1-week JR pass costs less than 30,000 yen which is almost equal to regular round-trip ticket from Tokyo to Osaka costing around 30,000 yen.
The other advantage of using the pass is that you do not have to buy tickets for individual journeys which could be difficult and time consuming, but can just show your pass to go through ticket barriers.
There are two types of JR pass: Green (for superior class Green cars) and Ordinary.
Prices of JR pass as of October 2016 is as follows.  These are Japanese yen prices and the actual cost in local currency is calculated based on the Banker's Selling Rate at the time the Exchange Order is issued.
Children who are age 6 through 11 as of the date on which the exchange order is issued are eligible for child Pass prices.
Please see below for further information.
http://www.japanrailpass.net/en/
[NOTICE]
JAPAN RAIL PASS will be sold at some sales offices in Japan from March 8, 2017 to March 31, 2018 on a trial basis.