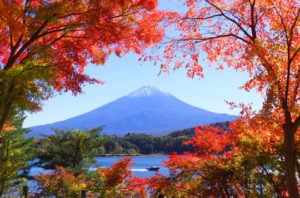 Japan may not come to minds of many as tour destination when they plan bicycle trips, but it is an excellent destination to discover hidden attractions by bicycle, not often experienced by those travelling in cars and trains.
Rather than rushing from one place to another, why not take the time to enjoy the journey by bike, and relish the new discoveries you can experience along the way?
An island country with compact but diverse geography offers thousands of kilometers of outstanding bicycling routes with wide selections of terrains, packed with a series of spectacular landscapes.  Roads are generally maintained in excellent conditions throughout the country, including small roads in remote provinces.  Countryside has quiet and relaxing rides with surprisingly low traffic and beautiful views.  It caters to all levels of fitness and experience and anyone can find the perfect way to enjoy cycling at their own pace.  Of course you can also combine conventional travelling with short cycling trips to get a fantastic blend of what Japan has to offer.
Another reason to make Japan ideal for cycling destination is convenience.  You are rarely far away from shops, vending machines and eateries.  You walk into any restaurant and be confident you will get something good if not spectacular, no matter what your budget is. In addition, numerous onsen, or natural hot springs located in many parts of Japan offer a perfect way to relax after a long day on a saddle.
Additional advantages of cycling trips are to pause your ride to talk to locals asking for direction or advice on local eateries in places that are rarely visited by foreigners.  This could result in your most memorable experience, making friends and soaking up the atmosphere of authentic Japan you would otherwise never consider visiting.