When to go for a bike trip in Japan?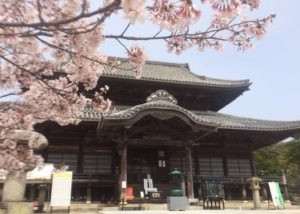 When to go to to Japan for a bike trip?
Japan has distinctive seasons which should be taken into consideration when planning a bike trip, particularly for a long tour. Generally speaking, spring 春 (March to early June) and autumn 秋 (October and November) are the best seasons for bike trips as the temperatures are pleasant and there is little rainfall.  Although it is perfectly possible to explore Japan by bike in other seasons, depending on where you travel.  The Japanese archipelago stretches from north to south, which means that each region has a different climate.
In general, the worst season for bike trip is summer 夏, starting with a few weeks of Tsuyu 梅雨 or rainy season in June.  After this period much of Japan becomes unpleasantly hot and humid to cycle.  Exceptions are Hokkaido (which does not have a rainy season) and mountainous regions in the Honshu Island.    Indeed summer is the best season to go to Hokkaido to experience its wonderful natural beauty with cool fresh air.
Late August to September is a typhoon season, and you might encounter a mix of heavy rainfall and strong winds in many parts of Japan.
During the winter 冬 months of December, January and February, many parts of Hokkaido, Northern Japan and the mountainous areas of Central Japan are covered with snow, and become very cold.  On the other hand, bike trip is still possible in these months on the Pacific coast side or in the southern regions including Kyushu, Shikoku, and Seto Inland Sea area of Honshu, where the climate is relatively mild and dry with surprisingly sunny days.
Please see tables below showing monthly average temperature and rainfall in various cities in Japan from north to south.
Hokkaido region (北海道)
Sapporo, Hokkaido (北海道札幌市) 
| | | | | | | | | | | | | |
| --- | --- | --- | --- | --- | --- | --- | --- | --- | --- | --- | --- | --- |
| Month | Jan | Feb | Mar | Apr | May | Jun | Jul | Aug | Sep | Oct | Nov | Dec |
| Average High Temperature (°C) | -0.9 | -0.3 | 3.5 | 11.1 | 17 | 21.1 | 25 | 26.1 | 22 | 15.8 | 8.1 | 2.1 |
| Average Low Temperature (°C) | -7.7 | -7.2 | -3.5 | 2.7 | 7.8 | 12.4 | 17.1 | 18.5 | 13.6 | 6.9 | 0.9 | -4.4 |
| Average Precipitation (mm) | 110.7 | 95.7 | 80.1 | 60.9 | 55.1 | 51.4 | 67.2 | 137.3 | 137.6 | 124.1 | 102.7 | 104.8 |
| Rainy Days | 17.9 | 15.6 | 13.9 | 9.2 | 8.6 | 6.7 | 7.5 | 8.8 | 10 | 12.4 | 13.7 | 15.7 |
Tohoku region (東北地方)
Sendai, Miyagi (宮城県仙台市) 
| | | | | | | | | | | | | |
| --- | --- | --- | --- | --- | --- | --- | --- | --- | --- | --- | --- | --- |
| Month |  Jan |  Feb | Mar | Apr | May | Jun | Jul | Aug | Sep | Oct | Nov | Dec |
| Average High Temperature (°C) | 5.2 | 5.5 | 8.8 | 14.8 | 19.5 | 22 | 25.7 | 27.9 | 24.1 | 19.1 | 13.4 | 8.3 |
| Average Low Temperature (°C) | -2 | -1.8 | 0.5 | 5.7 | 10.8 | 15.3 | 19.3 | 21.2 | 17.2 | 10.8 | 4.9 | 0.6 |
| Average Precipitation (mm) | 33.1 | 48.4 | 73 | 98.1 | 107.9 | 137.9 | 159.7 | 174.2 | 218.4 | 99.2 | 66.8 | 26.4 |
| Rainy Days | 5.5 | 5.4 | 7 | 8.1 | 8.5 | 11.1 | 12.5 | 11 | 12 | 7.7 | 6.3 | 4.3 |
Kanto region (関東地方)
Tokyo (東京) 
| | | | | | | | | | | | | |
| --- | --- | --- | --- | --- | --- | --- | --- | --- | --- | --- | --- | --- |
| Month | Jan | Feb | Mar | Apr | May | Jun | Jul | Aug | Sep | Oct | Nov | Dec |
| Average High Temperature (°C) | 9.8 | 10 | 12.9 | 18.4 | 22.7 | 25.2 | 29 | 30.8 | 26.8 | 21.6 | 16.7 | 12.3 |
| Average Low Temperature (°C) | 2.1 | 2.4 | 5.1 | 10.5 | 15.1 | 18.9 | 22.5 | 24.2 | 20.7 | 15 | 9.5 | 4.6 |
| Average Precipitation (mm) | 48.6 | 60.2 | 114.5 | 130.3 | 128 | 164.9 | 161.5 | 155.1 | 208.5 | 163.1 | 92.5 | 39.6 |
| Rainy Days | 4.6 | 5.8 | 9.5 | 10.1 | 9.6 | 11.9 | 10.4 | 8.2 | 11.3 | 9.1 | 6.2 | 3.8 |
Chubu region (中部地方)
Nagoya , Aichi (愛知県名古屋市) 
| | | | | | | | | | | | | |
| --- | --- | --- | --- | --- | --- | --- | --- | --- | --- | --- | --- | --- |
| Month | Jan | Feb | Mar | Apr | May | Jun | Jul | Aug | Sep | Oct | Nov | Dec |
| Average High Temperature (°C) | 8.8 | 9.5 | 13.4 | 19.5 | 23.7 | 26.7 | 30.5 | 32.2 | 28 | 22.4 | 16.7 | 11.4 |
| Average Low Temperature (°C) | 0.5 | 0.6 | 3.7 | 9.2 | 14 | 18.7 | 22.6 | 23.8 | 20 | 13.5 | 7.6 | 2.6 |
| Average Precipitation (mm) | 43.2 | 64.1 | 115.2 | 143.3 | 155.7 | 201.5 | 218 | 140.4 | 249.8 | 116.9 | 79.5 | 36.8 |
| Rainy Days | 5.2 | 6.3 | 8.8 | 10.4 | 9.8 | 11.9 | 12.2 | 8 | 11.2 | 8.6 | 6.2 | 5 |
Kansai region (関西地方)
Osaka, Osaka (大阪市)
| | | | | | | | | | | | | |
| --- | --- | --- | --- | --- | --- | --- | --- | --- | --- | --- | --- | --- |
| Month |  Jan |  Feb | Ma r | Apr | May | Jun | Jul | Aug | Sep | Oct | Nov | Dec |
| Average High Temperature (°C) | 9.3 | 9.6 | 13.3 | 19.6 | 24.2 | 27.4 | 31.4 | 33 | 28.7 | 23 | 17.3 | 12 |
| Average Low Temperature (°C) | 2.5 | 2.5 | 5.2 | 10.5 | 15.2 | 19.8 | 24 | 25.1 | 21.1 | 15 | 9.5 | 4.7 |
| Average Precipitation (mm) | 43.7 | 58.7 | 99.5 | 121.1 | 139.6 | 201 | 155.4 | 99 | 174.9 | 109.3 | 66.3 | 37.7 |
| Rainy Days | 5.3 | 6.1 | 9.3 | 10.1 | 9.7 | 11.6 | 9.6 | 7.2 | 10.4 | 7.9 | 6.4 | 5.2 |
Kyushu region (九州)
Fukuoka, Fukuoka (福岡市)
| | | | | | | | | | | | | |
| --- | --- | --- | --- | --- | --- | --- | --- | --- | --- | --- | --- | --- |
| Month | Jan | Feb | Mar | Apr | May | Jun | Jul | Aug | Sep | Oct | Nov | Dec |
| Average High Temperature (°C) | 9.8 | 10.5 | 14 | 19.2 | 23.5 | 26.5 | 30.7 | 31.6 | 27.8 | 23 | 17.6 | 12.5 |
| Average Low Temperature (°C) | 3.2 | 3.5 | 6.1 | 10.7 | 15 | 19.4 | 24 | 24.5 | 20.6 | 14.7 | 9.6 | 5.2 |
| Average Precipitation (mm) | 72.1 | 71.2 | 108.7 | 125.2 | 138.9 | 272.1 | 266.4 | 187.6 | 175 | 80.9 | 80.5 | 53.8 |
| Rainy Days | 8.9 | 8.7 | 11.1 | 10.4 | 9.4 | 12 | 10.6 | 9.4 | 9.7 | 7.2 | 8.1 | 8.4 |
Naha, Okinawa (沖縄県那覇市) 
| | | | | | | | | | | | | |
| --- | --- | --- | --- | --- | --- | --- | --- | --- | --- | --- | --- | --- |
| Month | Jan | Feb | Mar | Apr | May | Jun | Jul | Aug | Sep | Oct | Nov | Dec |
| Average High Temperature (°C) | 19.1 | 19.2 | 21.3 | 24 | 26.4 | 29.2 | 31.3 | 30.9 | 29.9 | 27.5 | 24.2 | 20.9 |
| Average Low Temperature (°C) | 14.3 | 14.3 | 16.2 | 18.9 | 21.5 | 24.6 | 26.4 | 26.1 | 25.1 | 22.7 | 19.5 | 16.1 |
| Average Precipitation (mm) | 114.5 | 125.2 | 159.6 | 180.7 | 233.8 | 211.6 | 176.1 | 247.2 | 200.3 | 162.9 | 124.1 | 100.7 |
| Rainy Days | 10.5 | 11 | 12 | 10.8 | 11.5 | 10.2 | 9.4 | 11.7 | 10.4 | 8.1 | 8.9 | 8.1 |