Japan's top 10 cycling roads - ten of the best rides
There are numerous cycling roads in Japan.  Whether you are a casual cyclist or a serious racer, there is always a perfect route for you.  But you do not know where to start?  Here is top 10 cycling roads in Japan voted by Japanese cycling enthusiasts and professionals.
The ten best rides include easy, flat routes and challenging uphill climbs in various parts of Japan.  All feature spectacular scenery and hidden charms you can only discover on a bicycle.  All the routes have rental bike facility of some sorts, so you could try cycling even when you do not have your own bike with you.
No. 1 : Shimanami Kaido Cycling Road  80.4 km
Onomichi, Hiroshima - Imabari, Ehime (Honshu Chugoku region)
しまなみ海道 /  瀬戸内海横断自転車道(広島県尾道市~愛媛県今治市)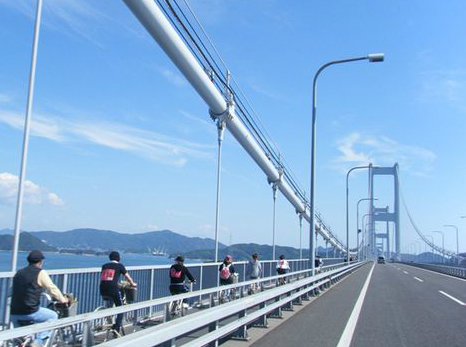 This relatively new cycling road is now arguably Japan's most popular route for cyclists.  It runs parallel to the Shimanami Kaido, a road that links Honshu with Shikoku with a series of bridges and offers spectacular views of islands and the sea.  You can ride over a series of bridges, hopping islands, and enjoy the views of Setouchi Inland Sea.  Both beginners and experienced cyclists can enjoy this course as there are numerous options and excursions.  There are 14 rent-cycle terminals in various locations, at which cyclists can freely rent or drop off bikes as they fancy.  You can spend several days to enjoy this route by exploring each island, tryint fresh seafood, and staying over in some of the hotels the islands offer.  It is also conveniently located to visit an attractive hill side town of Onomichi on Honshu, and a famous hot spring resort of Dogo onsen in Matsuyama on Shikoku.
No. 2 : Maple Yaba Cycling Road   36.1 km
Naktatsu, Oita (Kyushu)
メイプル耶馬サイクリングロード(大分県中津市)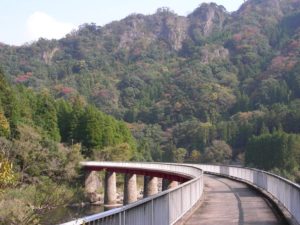 This road utilizes abandoned railway tracks by the mountain side.  There are attractive sights nearby such as Yabakei Gorge, a rock tunnel from Edo period and old iron bridges and abandoned platforms.  The gradient is not steep and the natural scenery is very attractive, especially in Autumn with red maple leaves, hence the name.  The cycling road begins right at the front of Nakatsu Station and runs along the Yamakuni River. There is a cycling terminal at Yabakei Gorge where you can rent a variety of bicycles including tandems.  The terminal also offers shower facilities, fitness centre and accommodation. There are two other locations for bicycle rental along the way.
No. 3 : Lake Biwa Yoshibue Road   26.2km
Omihachiman to Higashiomi, Shiga (Honshu Kansai region)
びわ湖よし笛ロード(滋賀県近江八幡市~東近江市)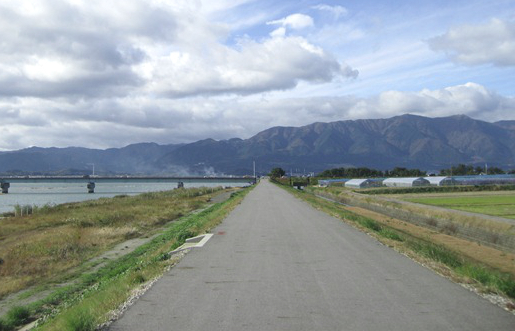 This flat route in the area  northeast of Kyoto is suitable for beginners.  The road starts from Omihachiman railway station where you can rent bicycles.The route goes along the river, then the shore of Lake Biwa, (Biwa-ko), Japan's largest with the area of 670.4 km².  The area has many historical structures, monuments and other remnants of the past such as castle ruins and  a huge water wheel. The waterways around the road called "Hachiman bori" were designated as an important cultural property in 2006.
No. 4 : Arakawa Cycling Route   45.9km
(aitama to Namekawa cho, Saitama (Honshu Kanto region)
荒川自転車道(埼玉県さいたま市~滑川町)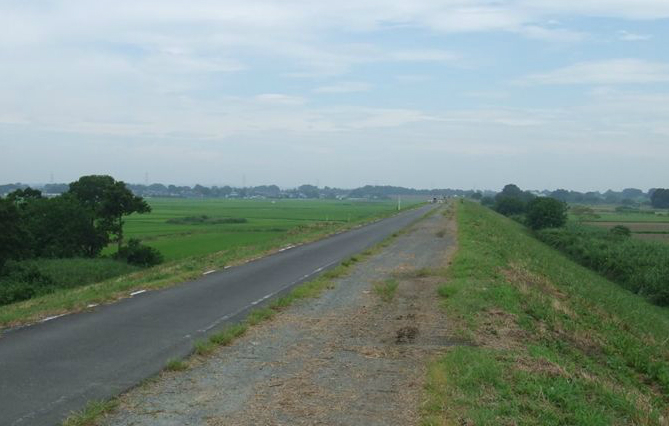 This road runs along the Arakawa River and is flat, suitable for everyone including beginners.  It is easily accessible from Tokyo, and popular with many cyclists throughout the year.  The riverside route is filled with fields, grassed areas, and parks offering various spots to stop and rest.
No. 5 : Tsukuba Cycling Road  40.1km
Sakuragawa to Tsuchiura, Ibaraki (Honshu Kanto region)
筑波自転車道(茨城県桜川市~土浦市)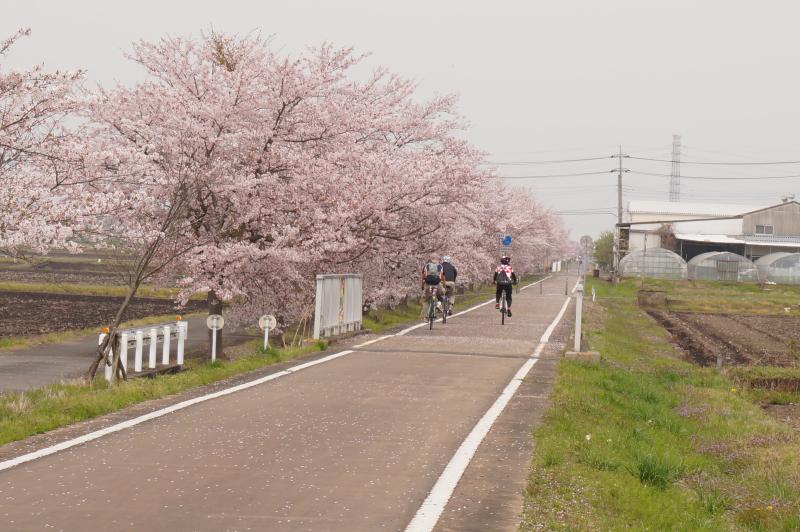 This road utilizes a former Tsukuba railway line.  It is generally flat, making this easy, family-friendly route.  There are toilets, rest areas and information signposts along the route.  It is conveniently located between Iwase station and Tsuchiura station.
No. 6 : Shikotsuko Park Cycling Road  26.5km
Chitose city, Hokkaido
支笏湖公園自転車道(北海道千歳市)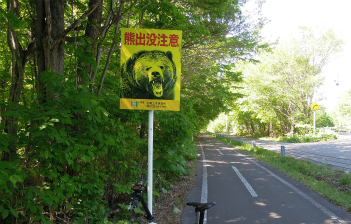 This road runs through the city of Chitose, through the forest and then to Shikotsuko lake.  It also runs along the Chitose river famous for salmon swimming up the river. There are also signs warning 'Be aware of bears' along the road.  Bears are being spotted in the nearby forest, so you are advised to keep to the cycling track and not venture into the forest.
No.7 : Kyoto Yawatakizu Cycling Road  45km
Kyoto city - Kizu cho, Kyoto (Honshu Kansai region)
一般府道京都八幡木津自転車道線(京都市~京都府木津町)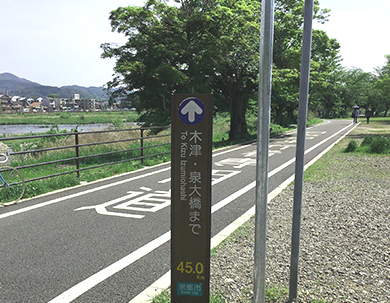 This road starts from the famous Togetsukyo bridge in Arashiyama and goes all the way down to Kizu.  This riverside route is an easy ride with 3 metre wide road. There are a number of sights nearby such as Katsura Imperial Villa and Hourinji Temple along the way.  If you feel adventurous, you can carry on further to cycle all the way to Nara, covering the full 90 km route to visit two of Japan's ancient capitals.
No. 8 : Kushiro Akan Cycling Road  25.4km
Kushiro city, Hokkaido
釧路阿寒自転車道(北海道釧路市)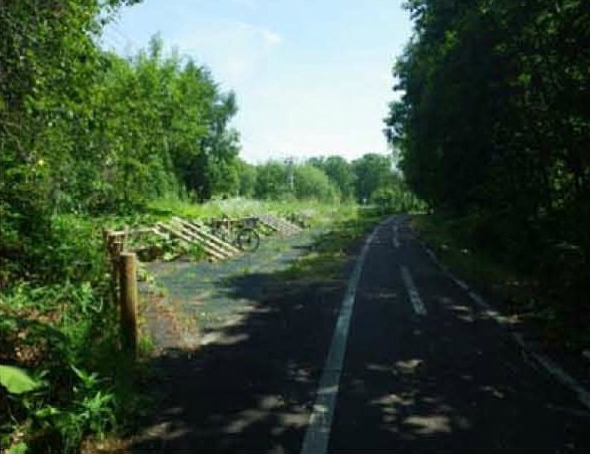 This road starts in Kushiro Park and goes through the Kushiro plains, which are known for Tancho cranes and Kushiro Zoo. You can enjoy the beautiful scenery of wetland in East Hokkaido.
No. 9 : Hiruzen Kogen Cycling Road 28.9km
Maniwa city, Okayama (Honshu Chugoku region)
蒜山高原自転車道(岡山県真庭市)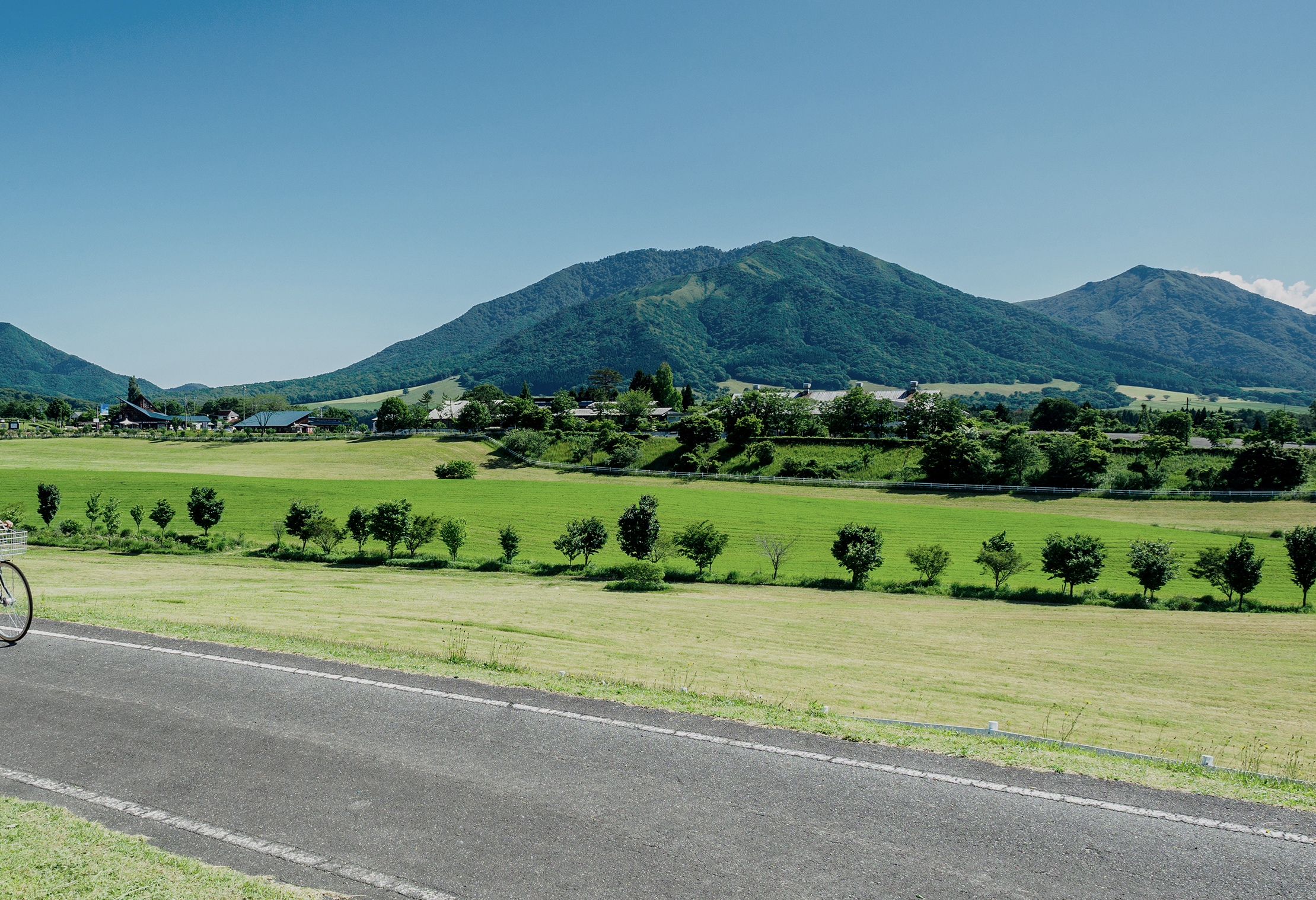 This road circles around the plains of the northern part of Okayama. You can cycle this easy route while enjoying a view of the Hiruzen mountains.  There are bike rental facility at various locations offering a variety of bikes including mountain bikes and electric ones.
No. 10 : Okhotsk Cycling Road 37.3km
Abashiri city - Kitami City Hokkaido
オホーツク自転車道(北海道網走市~北見市)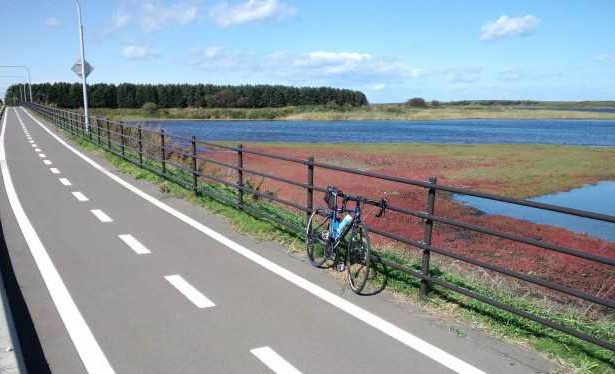 This road goes from Abashiri Park to Lake Notoro and then to the Okhotsk coast line. 70% of the route is by water, and the gradient is generally gentle.  The panoramic landscape of the shoreline with the view of Mount Shiretoko make this route very attractive.  You can rent bicycles from Michino Eki in Abashiri.