Where to stay in Japan : Accommodation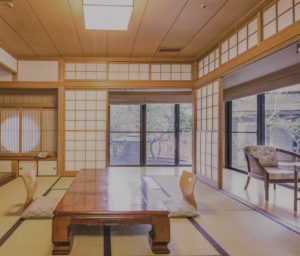 There is a wide range of accommodation in Japan, both Western-style and Japanese. Types of accommodation vary widely in terms of style and price. You can choose to stay in the familiar comforts of a Western-style hotel, or enjoy the comfort and personal attention of a traditional Japanese inn or ryokan 旅館.
In addition to hotels and ryokans that can be booked from typical online booking sites such as Expedia, there are less-publicized types of accommodation such as minshuku 民宿, capsule hotels, youth hostels, temple lodgings, camp sites, kyukamura 休暇村 hotels.  If you take time to search out, you will be able to find comfortable places to stay that suit your style and budget.
Japanese Style Accommodation
Ryokan 旅館
(5,000 to 50,000 yen per person)
Roykan are traditional Japanese style inns with Japanese style tatami rooms.  A stay at a ryokan typically includes dinner and breakfast, but some offer accommodation without meals.
Minshuku 民宿
(3,000 to 15,000 yen per person)
Minshuku are Japanese style "bed and breakfast" lodgings. They are usually small and are often family run.  They normally offer Japanese style rooms, and often include one or two meals in the price.
Japanese Apartments and Houses Airbnb
(10,000 to 50,000 yen per apartment/house)
An increasingly popular, but still relatively rare type of accommodation (mainly available in popular destinations such as Toko and Kyoto) are entire apartments or houses offered to tourists for short term stays.  There are a wide variety of accommodation available such as apartments with traditional or modern interior, as well as modern houses and restored old buildings.
Western Style Accommodation
Western Style Hotels ホテル
(5,000 to 50,000 yen per room)
Western style hotels, including various international and Japanese hotel chains, can be found across Japan in a variety of style and price.
Business Hotels ビジネスホテル
(3,000 to 20,000 yen per room)
Business hotels offer small, simple Western style rooms, often used for business purposes.  They tend to be situated in convenient locations in towns and near stations.
Pensions ペンション
(6,000 to 12,000 yen per person)
Typically found in resort areas and in the countryside, pensions are comparable to minshuku (see above), except that they tend to offer rooms in Western style rather than in Japanese style.
Online Reservation Sites
These are examples of major online sites to search and reserve a variety of accommodation listed as above.
Other Types of Accommodations
Hostels and Dormitories ホステル
(1,500 to 4,000 yen per person)
Hostels offer lodging for low-budget tourists.
Youth Hostels ユースホステル
In Japan, approximately 350 Youth Hostels are scattered throughout the country from Hokkaido to Okinawa, offering accommodation at very reasonable overnight fee about 3,000 yen per night.  If you are a member of Hosteling International, you can get a discount of about 600 yen per night.
Japan Youth Hostel
Capsule Hotels カプセルホテル
(3,000 to 5,000 yen per person)
Mainly targeting a male clientele in need of nothing but a bed, capsule hotels offer small capsules or cabin for guests to sleep in.  Shared bathrooms and coin lockers are usually provided.
Temple Lodgings 宿坊
(3,000 to 10,000 yen per person)
Some temples provide tourists accommodation called 'shukubo' . A stay often includes two vegetarian meals and the opportunity to join the Buddhism prayers.  One of the popular places to experience a night at a shukubo is Mount Koya 高野山.
Kyukamura 休暇村 Hotels
(8,000 to 20,000 yen per person)
Literally means 'Holiday Village', Kyukamura offer relatively modest priced accommodation in resorts throughout Japan.  All of 37 Kyukamura are located within the territories of National Parks.  You can get close to natural beauty and have fun in a variety of recreational activities.
Camping キャンプサイト
(500 to 2,000 yen per person)
Camping in Japan is generally allowed only on designated campgrounds, which are found across Japan, especially in the countryside and national parks.  There are currently more than 3,000 campsites scattered all over Japan, mostly owned and managed by public bodies. Campgrounds in cities are very rare.  Facilities and equipment available at Japanese campsites may not be equal to those you experience in Europe or North America.  Note that many campgrounds are closed during winter.  Camping has always been popular among the younger groups and families. During the summer holidays, especially between July 20 and August 15, most of the campsites in popular places are full with student campers.  The overnight cost is a few hundred yen per person or around 1000 yen per tent if you bring your own tent. Some campgrounds also provide tents or cabins for rental.
Accommodation Search site in English
Japan National Tourism Organization offers a useful site to search suitable accommodation in multi languages including English.  You can search for your desired accommodation by inputting your selection such as areas, budget, types of accommodation, etc.  This site is particularly useful if you want to look for budget accommodation as it lists hostels and temple lodging together with hotels and ryokans. However, they do not list camping sites.
Tips to find suitable accommodation for cyclists
Before you book any accommodations enquire the following
Is there secure storage space for your bicycle, and ideally space/facility for you to wash and maintain your bike?
Do they have laundry facility available if you want to wash your clothes?
Can you use shower/bath if you are likely to arrive before check in time?
Do they have washing amenities (towel, toothbrush, shampoo, soap, shaver, etc) and night robe/sandals etc so that you do not have to carry extra luggage?
Cyclist Welcome Accommodation
Cyclists often run into the problem of inadequate services for cyclists at various accommodations.  Hotels often have no space to store bicycles and the staff may have no idea about your need and priorities for cycling trips.
Cyclist Welcome JP offers a range of accommodations in Japan suitable for cyclists.  They have their own Cyclist Welcome standards based on certification standards used in various European countries.  Every tourist facility listed on the site have met certain requirements to ensure they cater to bicycling clientele.  The number of accommodations listed are not many, but if you happen to travel to areas where such hotels are located, you may consider staying at these.