10 ways to eat cheap in Japan for budget travellers
Japan has one of the world's most sophisticated food cultures.  It is possible to spend a large sum of money in top class restaurants in Japan, but it is also easy to find delicious food at very reasonable prices.
1.Supermarkets スーパー
You may want to buy fresh ingredients from supermarkets to cook yourself, but you can also just pick up a variety of prepared meals such as bento 弁当 lunch boxes (starting from 300 yen) and onigiri おにぎり rice balls (from 100 yen).
Some supermarkets reduce price for prepared food including sushi and bento after certain times in the evening, such as 5 to 7 PM. It is not unusual to find some items discounting 50% or even more the marked price.
Look for stickers such as 「3割引」 (30% discount). 「1割引」 means 10% discount,「2割引」 means 20% discount, and so on.「半額」is the same as「5割引」,  meaning  half price.
You may want to eat these discounted food within the same day/night as they would not be as nice if left overnight.
2. Konbini コンビニ (Convenience stores  such as Seven-eleven, Lawson, Family Mart)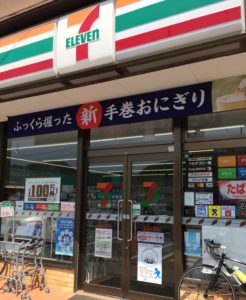 If you find yourself hungry at 3AM, you can still go to Konbini and choose from a variety of bento lunch box to onigiri rice balls together with a wide range of bread, sweets, soft and alcoholic drinks.
Some konbini sell hot meals such as oden (vegetable hot pot) and fried chicken.
They also offer take away coffee that is freshly brewed for as little as 100 yen. Our favourite is Seven Eleven filter coffee which I prefer compared to ones from other cafes such as Starbucks.
3. Department stores デパート
You will find a huge food floor in the basement of most department stores such as Isetan 伊勢丹 and Mitsukoshi 三越 where you find a wide range of food from all over Japan.  They tend to be more expensive than supermarkets, but they often offer free food samples.  It is a good way of trying a wide variety of food you are not unsure before committing yourself to buy.
4. Bento shops such as Hotto Motto ほっともっと
There are numerous bento shops in every district where they serve hot bento lunch box, typically costing around 500-1000 yen.  As they prepare hot bentos after eatch order,  you may have to wait a little especially around lunch time (12-1PM). Hotto Motto is a national chain and you can order bentos online for delivery or pick up.
5.Conveyor belt sushi restaurants and stand up sushi bars 寿司屋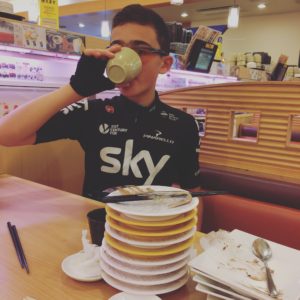 'Proper' sushi restaurants in Japan tend to be expensive, but there are many conveyor belt sushi places where you may find a sushi dish at 100 yen (per 2 pieces).  Some may have different coloured plates for different prices, so it is easy to figure out how much they cost.
Even if you do not like sushi much, you may find that there are other variety of food available such as karaage からあげ (fried chicken) furaido poteto フライドポテト (chips) and cakes, the three dishes we always get after hard day of cycling. Hot Japanese tea and pickled gingers come free of charge.
There are also stand up sushi bars, where you eat sushi standing up.  You may find these within the station building such as one in Shinagawa Station.
6. Noodle restaurants (ramen, udon, soba) ラーメン・うどん・そば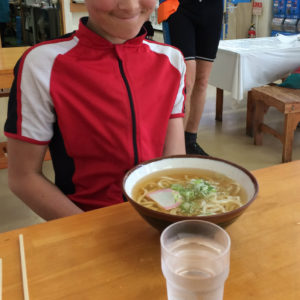 There are different kinds of noodles restaurants serving different types of noodles: Ramen/Udon/Soba.
Ramen restaurants offer a variety of ramen noodles at reasonable price starting from around 400 yen.  You will find these 'Ramen-ya' everywhere you go throughout Japan, and every locality/region seems to have its ow variety of ramen, from the tonkotsu (pork bone broth) ramen of Kyushu to the miso ramen of Hokkaido.
Udon are white coloured noodles with Japanese dashi soup stock.  'Su-udon' or plain udon comes with chopped spring onions and small bits of Tempura called 'tenkasu'.  Extra toppings can be added onto Udon such as egg, beef and Tempura. Sometimes they are served chilled with a dipping sauce.
Soba is made from greyish buckwheat flour and served chilled with a dipping sauce, or in hot broth just like Udon.
7. Gyudon Restaurants 牛丼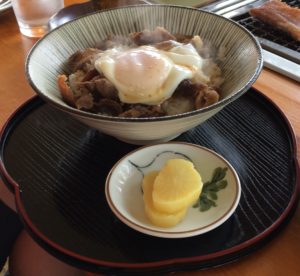 Gyudon, shortend from Gyuniku Donburi (beef rice bowl), consisting of white rice with various savoury toppings served in a donburi (big bowl) are served in restaurant chains such as Sukiya すき屋, Yoshinoya 吉野家,  Matsuya 松屋  throughout Japan.
They often open all day, sometimes 24 hours with salaryman customers who want good hearty beef bowls (donburi) at a reasonable price, as low as 350 yen.  You can also order set meals with miso soup, side dishes and salad.
8.Fast food ファーストフード
There is no shortage of Western style fast food chains such as McDonalds and Kentucky Fried Chicken in Japan, but you may want to try Japanese versions such as Mos Burger モスバーガー  and Lotteriaロッテリア . Teriyaki burger from Mos Burger is a best seller over many years.
9.Familiy Restaurants (famiresu) ファミレス
Popular with family with children, Gusto ガスト,  Saizeriya サイゼリア, Royal Host ロイヤルホスト and Joyful ジョイフル are usually part of large multiples throughout Japan and serve mostly Western-style food with some Japanese dishes.  Meals cost around 500-2000 yen, and they tend to offer special price lunch deals that are very reasonable.
10. Yatai street stall 屋台
Yatai are more abundant in big cities like Tokyo, Osaka and Fukuoka, but smaller cities and towns have their share of stalls that are food wagons, usually stationed around train stations and other transport hubs in the evenings.  Each stalls may have different variety of food such as yakitori (skewered pieces of grilled chicken) and oden (vegetable hot broth) served with beer and other alcoholic drinks. They are frequented by salarymen after work on the way home.