Lake Biwa Yoshibue Cycling Road
Lake Biwa Yoshibue Road   26.2km
Omihachiman to Higashiomi, Shiga (Honshu Kansai region)
びわ湖よし笛ロード(滋賀県近江八幡市~東近江市)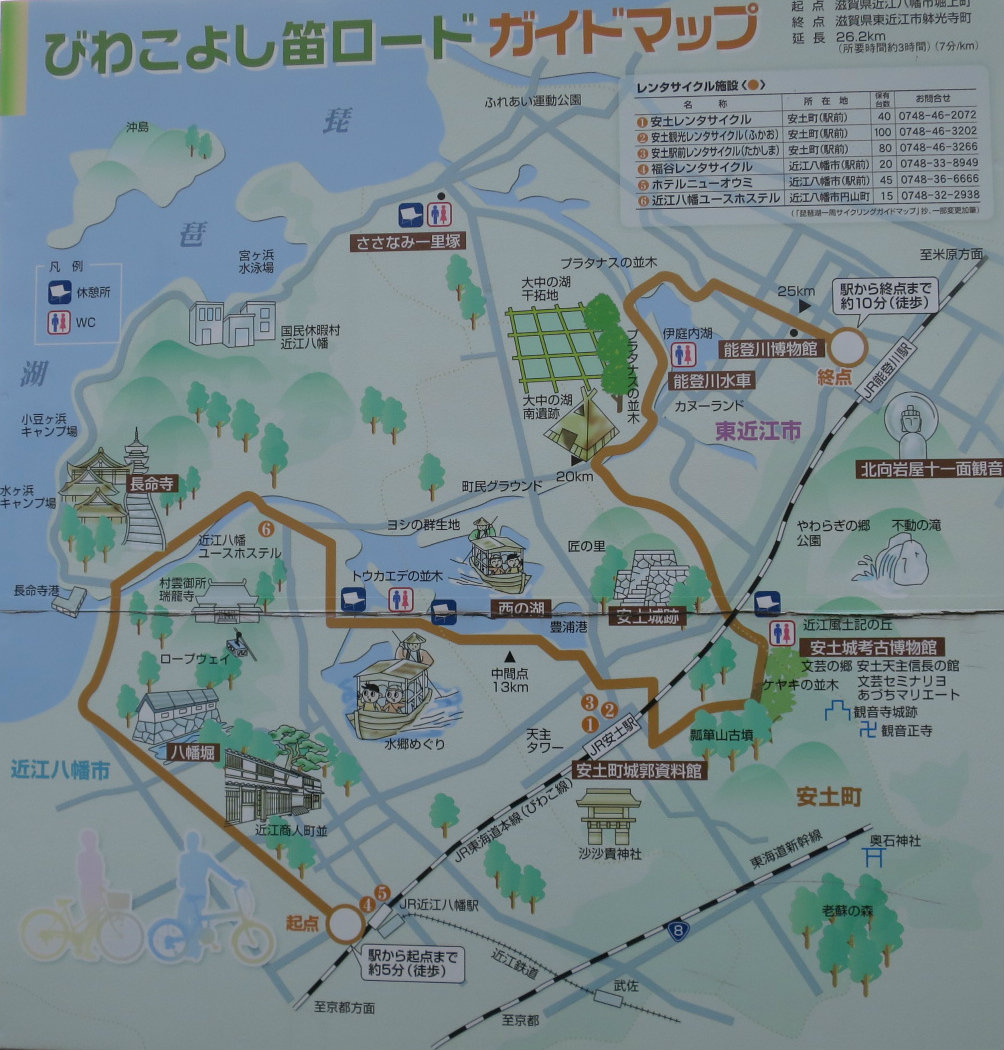 This cycling road is located within the Lake Nishinoko area northeast of Kyoto, from Omihachiman 近江八幡 to Azuchi 安土, Japan's largest waterfront area. It is regarded as one of the eight most beautiful spots of Lake Biwa 琵琶湖 and as "a water district of Azuchi Hachiman 安土八幡 in spring colors."  The area is designated as the first Important Cultural Landscape in Japan, because of the importance of its ecosystem, where reeds have a water purification effect.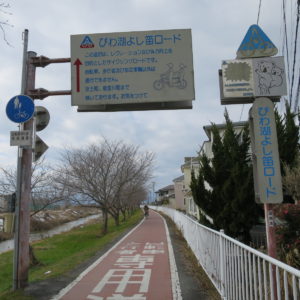 The Biwako Yoshibue Cycling Road is 26.2 km long and is generally flat, making it easy and suitable for beginners.  The road starts from Omihachiman railway station 近江八幡駅 where you can rent bicycles. The route goes along the river, then the shore of Lake Biwa, (Biwa-ko), Japan's largest with the area of 670.4 km² and the historic canal which dates back to the 19th century.
From this route you can enjoy the view of mountains, wildlife at wetlands, Edo ruins, rice fields and even a historic water wheel.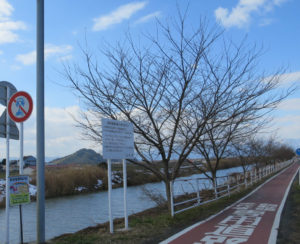 There are extensive reed  (Yoshi) beds along the way, enabling you to listening to the songs of waterbirds and watching seasonal views of this important ecosystem.
Omihachiman in the center of Shiga 滋賀, is a castle town of Hachiman-yama-jo and is known as a base town for Omi-shonin, or Omi merchants.  Before setting off cycling, you may want to wonder around the quaint streets with old merchant houses and warehouses.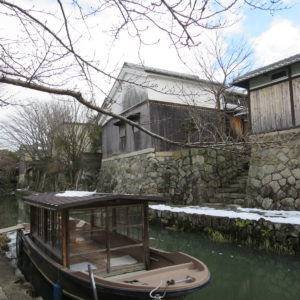 The Hachiman-bori 八幡堀 waterway area was the hub of ship transport and are listed and preserved as a national important preservation district.  You can enjoy cruising by houseboat in a maze of waterways.
Along the Hachiman-bori are white-walled storehouses and old houses like Haku-un-kan, a building where western architecture and Japanese tradition are well-matched; also here is the Kawara Museum (tile museum) that displays tiles from all parts of Japan.
Further Information
Yoshibue Cycling Road Official Guide (Japanese)
How to get to Omihachiman 近江八幡
Rail from Tokyo 東京
2h 20 min to Maibara Station 米原駅 by JR Tokaido Shinkansen Line 東海道新幹線, and 22 min from Maibara to Omihachiman Station 近江八幡駅 by JR Tokaido Line 東海道線.
Rail from Osaka 大阪
1h 4 min from Osaka to Omihachiman Station by JR Tokaido Line 東海道線
Further ahead : Biwa Lake Loop Route
If you want to cycle all around the Biwa Lake which is about 230 kilometers in circumference, it may take 1-3 days depending on your ability and travelling style.  If you are fit and just want to speed along you could just do it one day, but the route would be better enjoyed by taking time to combine visits to surrounding areas.  Lake Biwa has great water landscape, many good roads, historical towns with temples and shrines, rich agriculture as well as modern industrial areas.  You can enjoy the varied landscape of the area on your bike, staying in one or two places on your way.