Tsunoshima Bridge Nagato Yamaguchi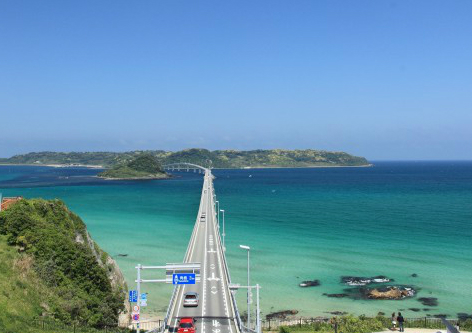 Tsunoshima 角島 Bridge is relatively new (opened in 2000) and connects between Yamaguchi Prefecture's 山口県 Shimonoseki city 下関市 and the Tsunoshima Island.  The view of the slender bridge structure over the sea sparkling in emerald green is impressive and it was ranked 3rd in the world in the best seller "Places to go before you die: Picturesque World Views".
When we cycled along Nagato 長門 coast in Yamaguchi-ken we went to Tsunoshima via this long bridge.  This toll free bridge is open to everyone including vehicles, pedestrians and cyclists.  There is no dedicated cycle lane or pedestrian path on the bridge, and there is hardly no one walking or cycling.  We slowed down the car traffic a bit as the roads are narrow and drivers are generally courteous. The bridge is quickly becoming popular destination, so you are advised to arrive early to avoid traffic congestion especially during the weekends.
Once you reach Tsunoshima island, you can enjoy more relaxed cycling along the shoreline of this small island.  There are several restaurants to try fresh seafood and rental bike facility for town bikes.  In Summer the island's beach is a popular destination for swimming.